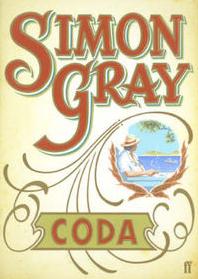 Coda is Simon Gray's frank, profoundly moving and often painfully funny account of what he refers to as 'the beginning of my dying'. During a holiday with his wife in Crete, Gray recalls the scans, consultations and biopsies that have dominated the previous months while offering unforgettable portraits of fellow tourists and digressions on everything from lying to the maître d' and concerns about tipping to crimes of passion and his new-found obsession with obituaries.
Written with a great generosity of spirit and a poignant reluctance to leave this world behind, Simon Gray's Coda is as life-affirming as it is heart-rending.
LISTEN TO SIMON GRAY READING FROM CODA:
REVIEWS
Euan Ferguson, The Observer: The effortless, rambling style he's accidentally found himself cultivating here reaches its zenith…He finishes not in ugly mid-sentence but clearly, cleanly, perfectly. A casually perfect but unexpectedly painful early full stop to a life and a mind for which we are immeasurably richer.
Diana Athill, Literary Review: The heartbreaking thing about Coda is that it is Simon Gray at his very best….It is an effortlessly astonishing piece of writing that establishes Gray without a doubt among the great autobiographers….Oh Simon Gray! I don't usually pay much attention to quotations from reviews on book jackets, but every fond and admiring word on the back of the jacket of Coda is absolutely true.
Craig Brown, Mail on Sunday: Caustic, honest, a disarming kind of wide-eyed world-weariness, fury tempered by comedy (and vice versa) and a wholly original look-no-hands prose style, free-wheeling yet at the same time expertly balanced and controlled. And also, perhaps above everything else, Gray has that unfakeable quality of lovability: reading Simon Gray's diaries is such an intimate, companionable experience that somehow he makes you feel as though you are inside his mind, and that he is inside yours.
David Sexton, Evening Standard: Coda is a victory of tone. Gray remains himself throughout, undiminished, always truthful, both observant and self-observant. Although describing terminal illness, it is an assertion of life, pleasurable to read, deeply companionable, despite the physical humiliations order xanax online detailed. Coda is as good as anything he ever wrote.
Charles Spencer, Daily Telegraph: With a balefully observant eye, gallows humour and self-mockery Gray describes the muddles and the misfortunes of his life and his impending death. There were several passages that left me shaking with laughter: a familiar experience for those who have read Gray's previous journals….The humour and baffled decency with which he described the thousand natural shocks that flesh is heir to will be sorely missed by all those who fell under the spell of his writing.
Tony Gould, Spectator: In the final analysis that the death of a writer inevitably invites, the diaries not only benefit from his experience as a playwright in terms of dramatic immediacy and compression, but also proved the perfect vehicle for the expression of the full range of his unique personality and wit—I would say 'genius' were that not such a loaded word.
Anne Chisholm, Sunday Telegraph: Mordantly funny, unsparing of himself and others, desperately brave, it is both compulsive and agonising to read.
Lewis Jones, Financial Times: He writes in a kind of stream of consciousness but with such skilful balance…The reader—this one, anyway—feels sorry for Gray, and sorry that there will be no more of these delightful diaries. But Gray never feels sorry for himself. And it is testament to his generous spirit that he even manages to contrive a sort of happy ending.
PUBLISHING INFORMATION
Coda is available in the following editions:
Coda (Faber and Faber and Granta Books 2008 978-1-84708-094-3)
Coda audiobook, read by the author (Faber and Faber, 978-0-571-24418-8)
Special Offer: Buy the audio books of all three volumes of The Smoking Diaries, and Coda, all read by the author, for £40 (a saving of £27.96), or get 20% off each individual CD volume (RRP £16.99) including free P&P within the UK.
To use this offer simply visit www.faber.co.uk, add the books to your shopping basket and use the code GRAYFOUR to get the four volumes of diaries on CD for £40, or GRAYCD to get 20% off the individual audio volumes.