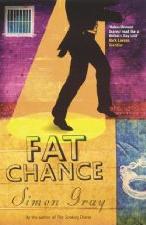 Fat Chance was first published by Faber and Faber in 1995. It is an account of the first production of Cell Mates, starring Stephen Fry and Rik Mayall.
Cell Mates is now available as a Faber Contemporary Classic in Simon Gray: Plays 5. 
Fat Chance
is published in the following editions:
Fat Chance (Faber and Faber 1995 ISBN 0-571-17792-1)
Fat Chance (Granta Books 2005 ISBN 1-86207-747-0)
Cell Mates is published in the following edition:
Cell Mates (Faber and Faber 1995 ISBN 0-571-17402-7)
Extract from Fat Chance: With a Nod and a Bow
Simon Gray describes the production of his radio play, With a Nod and a Bow, following a meeting with theatre producer, Duncan Weldon, about a stage production of the same piece:
Shortly after Duncan and I had had this meeting in Ivor Novello's suite, which could also have been, from the look of it, Ivor Novello's bedroom, there was a phone call or a card from Jane Morgan, a director of radio dramas at the BBC. She'd done a few plays of mine with consummate professionalism – she is also a cricket fanatic, which helps our collaboration enormously. I raised the subject of Blake and Bourke. We decided I should try my hand at converting it into a radio piece, directed by herself. I only had an hour's transmission at my disposal – so further alterations and compressions were called for. The piece went out, still a two-hander – excellently performed by Jack Shepherd as Blake and Bill Nighy as Bourke. It was called With a Nod and a Bow and was well received, except by the Evening Standard, which rather oddly singled it out as the 'Pick of the Day' and then rubbished it.
For my own part, I enjoyed With a Nod and a Bow, thinking I'd got both the experience and the meaning for once. But I also thought, yes, that's right, it's a radio piece and I've done it on radio. It's not, even yet, for the stage. The point being, I suppose, that if you can listen to the characters without feeling a need to see their faces, watch their movements, then on radio is where your play should be. So back to the drawing board.