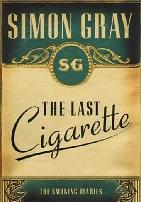 Simon Gray is determined to give up smoking. Can he kick the habit of sixty years? As this wonderful record of Gray's life progresses, the question dwindles in the shadow of much larger ones. Will his name be in lights on Broadway? What was sex like before 1963? Why did he leave the bedside of his dying mother? Meanwhile, what is that lady doing with her nose on the plane to Athens?'Gray's greatest non-fiction achievement to date… this is a moving, wildly entertaining classic of the memoirist's art, and one I can't recommend too highly.' Sunday Telegraph
In their combination of comedy and serious reflection, of sharp observation and painful self-disclosure, Simon Gray's diaries have reinvented the memoir form and are destined to become classics of autobiography. The beauty of them lies in their struggle to put a finger on some kind of personal truth. The Last Cigarette takes us to many places – Suffolk, a Greek island, the Caribbean, New York – but not least to a man's heart.
LISTEN TO THE AUTHOR READING FROM THE LAST CIGARETTE:
REVIEWS
LYNN TRUSS ON THE LAST CIGARETTE: 'If Simon Gray's publisher ever decides to undertake an annotated edition of his diaries, I am definitely putting in for the job. "This should settle my hash, order alprazolam this long disease my hash," Gray writes, somewhat mysteriously, on page 15 of The Last Cigarette. Well, imagine the joy of being able to explain that this is a private reference to a speech in his play Butley (1971) about the hero's mother-in-law: "Anne's mother the mad monk settles the hash of bus-conductors, milkmen, postmen, anyone stupid enough to…' READ MORE
Special Offer: Buy the audio books of all three volumes of The Smoking Diaries, and Coda, all read by the author, for £40 (a saving of £27.96), or get 20% off each individual CD volume (RRP £16.99) including free P&P within the UK.
To use this offer simply visit www.faber.co.uk, add the books to your shopping basket and use the code GRAYFOUR to get the four volumes of diaries on CD for £40, or GRAYCD to get 20% off the individual audio volumes.
"Coda
PUBLISHING INFORMATION
The Last Cigarette is the final volume of The Smoking Diaries Trilogy. The other volumes are The Smoking Diaries and The Year of The Jouncer. The Last Cigarette is published in the following editions:
The Last Cigarette (Granta Books 2008 ISBN 978-1-84708-094-3)
The Smoking Diaries Trilogy Box Set (Granta 2008)
The Last Cigarette is also published as an audio book (read by the author): (Faber and Faber ISBN 978-0-571-24144-6)