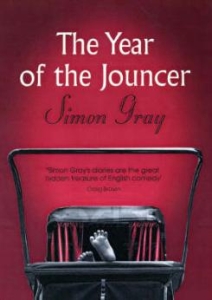 A great many writers use their own lives as the raw material for their work but few have done it with the wit and courage of Simon Gray. Indeed, he could be said to have developed a new literary genre, part autobiography, part razor-sharp reflections of the world around him, part penetrating observations of friends and colleagues. Like his previous best-seller, The Smoking Diaries, The Year of the Jouncer has the rare ability to make you laugh aloud on one page and ponder sad mysteries of mortality on the next, and sometimes to do both at the same time. Here, contained within these joyful, perceptive, compassionate pages, is the chronicle of an extraordinary Year of the Jouncer.
LISTEN TO THE AUTHOR READING FROM THE YEAR OF THE JOUNCER:
PRAISE FOR THE YEAR OF THE JOUNCER
'A wonderful book, hilarious and poignant in turn, or even together.' – Time Out.
'Gray is an absolute genius. The hazards of mounting his work in the West End, the vicissitudes of rehearsals, the ego of actors; the mercilessness of reviewers – the worse things get, the better the diaries become. Gray has developed a sophisticated comic act, a stream of consciousness and grumble that is as artful and rhythmical as improvised bluesy jazz… Gray's passage on his friend and colleague ordering xanax online [Alan Bates] is tender and deeply humane – and the very best thing he has ever done.' – Daily Express
'A trenchant, funny and surprisingly mellow book.' – Michael Arditti, Daily Mail
'Gray is always sharp, clever, eminently readable – laugh-out-loud digressions… utterly hilarious.' – Ranjit Bolt, Observer
Special Offer:Buy the audio books of all three volumes of The Smoking Diaries, and Coda, all read by the author, for £40 (a saving of £27.96), or get 20% off each individual CD volume (RRP £16.99) including free P&P within the UK.
To use this offer simply visit www.faber.co.uk, add the books to your shopping basket and use the code GRAYFOUR to get the four volumes of diaries on CD for £40, or GRAYCD to get 20% off the individual audio volumes.
PUBLISHING INFORMATION
The Year of the Jouncer is the second volume of Simon Gray's acclaimed The Smoking Diaries Trilogy. The other volumes are The Smoking Diaries and The Last Cigarette. The Year of the Jouncer is published in the following editions:
The Year of the Jouncer (Granta 2006 ISBN 1-86207-907-2)
The Year of the Jouncer (Paperback) (Granta 2008 ISBN 1847080554)
The Smoking Diaries Trilogy Box Set (Granta 2008)
The Year of the Jouncer is also published as an audio book (read by the author). (Faber and Faber ISBN 978-0-571-24142-2)