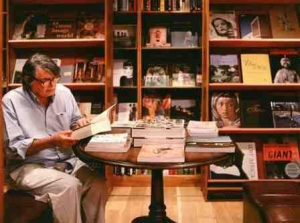 "Simon Gray is the playwright who comes closest to being Chekhov's heir in the contemporary theatre." – John Gore, Washington Arena Stage
"Gray is in full possession of that Chekhovian Territory where the tragedies and absurdities of life become one and the same." Frank Rich, New York Times.
'Few writers have had a keener sense of the oddity or the fragility of what passes for normal life, or a sharper eye and ear for the way people respond when they realise how easily their worlds might fall apart.' The Times

Simon Gray was born at Hayling Island, Hampshire, in 1936; his father, James, a Scots GP turned pathologist, his mother, Barbara, nee Holliday, a former Olympic athlete. At the age of three, Simon Gray was evacuated to Canada with his elder brother Nigel to escape the war. They stayed with their paternal grandparents and aunt for five years, coming home just before the war ended.
He was educated at Portsmouth Grammar and Westminster Schools, and moved back to Canada at 17 to attend Dalhousie University, in Halifax, Nova Scotia. Trinity College, Cambridge followed, before he was appointed lecturer in English at Queen Mary College, University of London. His first novel, Colmain, written while he was at Cambridge, was published by Faber & Faber in 1963. Adapting his short story, 'The Caramel Crisis', for television kicked off a new career as a dramatist.
Other television plays followed, for the BBC's Wednesday Play and Play for Today, frequently in collaboration with the producer Kenith Trodd.
He began to write for live stage when his play Wise Child was considered too shocking for television. It starred Simon Ward and Alec Guinness and was produced by Michael Codron at Wyndham's Theatre in 1967.
His 1971 xanax buy australia play Butley, also produced by Michael Codron, began a long creative partnership with Harold Pinter as director (of both the play and the film versions) and continued the partnership with the actor Alan Bates, begun with Gray's 1967 television play Death of a Teddy Bear. Bates starred in 11 of Gray's works, while Pinter directed 10 separate productions of Gray's works for stage, film, and television, beginning with Butley. Their final collaboration was a stage production of The Old Masters, starring Peter Bowles and Edward Fox, in 2004.
Robert McCrum, an editor at Faber, suggested in 1984 that Gray kept a diary when he was working with Harold Pinter on The Common Pursuit, staged at the Lyric, Hammersmith. This was the first of eight volumes of diaries. In 2003 Ian Jack, then editor of Granta, asked what Gray had done in his holidays. The result was the acclaimed trilogy, The Smoking Diaries, which brought him a new and appreciative audience.
His last diary, Coda, was published posthumously in November 2008. With fellow playwright Hugh Whitemore, Gray adapted his diaries for the stage. The Last Cigarette, starring Felicity Kendal, Nicholas Le Prevost and Jasper Britton and directed by Richard Eyre, was staged in 2009.
In March 2009, Harry Burton marshalled a constellation of British acting talent to pay tribute to Gray in Simon Gray: A Celebration at the Comedy Theatre, in London.
Gray married Beryl in 1965, and they had two children, Ben and Lucy. The marriage was dissolved. In 1997 Gray married Victoria. He was appointed Commander of the Order of the British Empire in 2004 for services to drama and literature. He died on 7th August 2008 at the age of 71.