Japes Too and Michael are companion plays, in which the love of two brothers for one woman both highlights and obscures their dependency on each other, but where fate and tragedy strike differently. Japes, the original play from which Japes Too and Michael sprang, was first produced in 2000 at Colchester and transferred to the West End in 2001. Both plays were published by Faber and Faber in 2004. Simon Gray wrote another version of the story, Missing Dates, for radio. It was broadcast on BBC Radio 4 in 2008.
In 2014, Japes Too was performed along with Michael, Japes and Missing Dates under the title In the Vale of Health at the Hampstead Theatre, London, with the following cast:
JAPES: Gethin Anthony
MICHAEL: Jamie Ballard
WENDY: Imogen Doel
ANITA: Laura Rees
DOMINIC: Tom Mothersdale
DIRECTOR: Tamara Harvey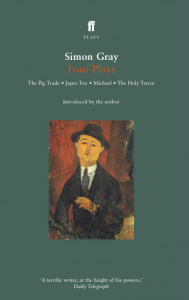 PUBLISHING INFORMATION
Both Japes Too and Michael are published in the following edition:
Four Plays (published by Faber and Faber, ISBN 0-571-21988-8)
LICENSING INFORMATION
For UK and Worldwide professional rights please contact Judy Daish Associates at rozzy@judydaish.com. For amateur rights please contact licensing@judydaish.com.