Missing Dates is a companion piece to the stage plays Japes, Japes Too and Michael. Set in their North London home, it tells a different version of the story about the love of two brothers for the same woman over more than twenty years.
In 2014, Missing Dates received its world stage premiere at the Hampstead Theatre, London, when it was performed along with Japes, Japes Too and Michael under the umbrella title In The Vale of Health. The cast was as follows:
JAPES: Gethin Anthony
MICHAEL: Jamie Ballard
WENDY: Imogen Doel
ANITA: Laura Rees
DOMINIC: Tom Mothersdale
DIRECTOR: Tamara Harvey
Missing Dates was first broadcast on BBC Radio 4 in 2008 and featured Toby Stephens and Jasper Britton from the Theatre Royal, Haymarket production of Japes. The cast was as follows:
JASON: Toby Stephens
ANITA: Monica Dolan
MICHAEL: Jasper Britton
DOMINIC: Joseph Kloska
WENDY: Faye Castelow
Producer: Jane Morgan
 PUBLISHING INFORMATION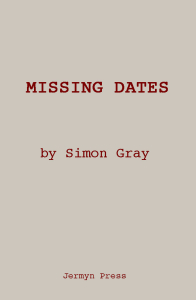 Missing Dates is available as an ebook on Amazon and Google Play.