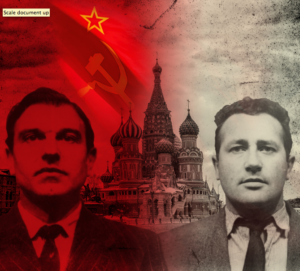 Cell Mates takes as its central characters the spy George Blake and the Irish petty criminal, Sean Bourke, who sprang Blake from Wormwood Scrubs prison. It tracks their relationship from their first meeting in prison to their hide-out in London, and on to the flat they shared in Moscow.
Although the play is concerned with ambition and betrayal, it also deals with the equally murky issues of mutual dependence, self-imprisonment, and the couple's desperate struggle for inner, as well as outer, freedom.
Hampstead Theatre Autumn 2018
Hampstead Theatre will stage Simon Gray's Cell Mates as part of its Autumn season 2017. Directed by Artistic Director Edward Hall, this absorbing drama explores how personal freedom is an illusion and even friendship must have carefully circumscribed limits in a world where deception is a reflex response.
Cast:
George Blake – Geoffrey Streatfeild
Philip/Viktor – Danny Lee Wynter
Sparrow/Stan – Philip Bird
Miranda/Zinaida – Cara Horgan
Sean Bourke – Emmet Byrne
Creative team:
Director – Ed Hall
Assistant Director – Milli Bhatia
Designer – Michael Pavelka
Production Manager – Alison Ritchie
Lighting designer – Rick Fisher
Sound Designer – John Leonard
Composer – Simon Slater
Dialect Coach – Richard Ryder
Russian Language Coach – Mila Alieva
Costume Supervisor – Jan Bench
Casting Directors – Suzanne Crowley and Gilly Poole
Stage Manager – Michael Dennis
Deputy Stage Manager – Rebecca James
Assistant Stage Manager – Imogen Firth
PUBLISHING INFORMATION
Cell Mates is now available as a Faber Contemporary Classic in Simon Gray: Plays 5. To order a copy on special offer at 25% discount please contact Faber and insert code GRAYPLAYS .
Cell Mates is also published in the following edtition:
Cell Mates (Faber and Faber 2017 ISBN 0571346022)
LICENSING INFORMATION
For UK and Worldwide professional rights please contact Judy Daish Associates at rozzy@judydaish.com. For amateur rights please contact licensing@judydaish.com.