The newly-acquired wardrobe filling most of the living room of the Godboys' decaying house in Shepherd's Bush really does seem unnecessarily large for most purposes. Eric and Doris upstairs could manage without one, surely. Whatever scheme Mr Godboy has in mind, however, he does seem to be going about it the hard way; and it certainly sorts oddly with his apparent worship of the police force and all it stands for. It's not entirely clear, either, why he married May Godboy in the first place. There's little satisfaction for her in the relationship…
PRODUCTION HISTORY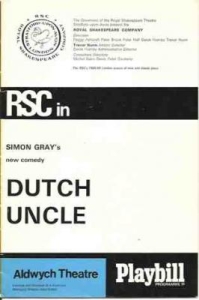 Dutch Uncle was first performed on 17th March 1969 at the Aldwych Theatre, London, produced by The Royal Shakespeare Company.
MR GODBOY – Warren Mitchell
MAY GODBOY – Megs xanax online cheap Jenkins
ERIC HOYDEN – John Alderton
DORIS HOYDEN – Frances de la Tour
INSPECTOR HAWKINS – Parick Magee
POLICE CONSTABLE HEDDERLY – Nigel Anthony
Director: Peter Hall
Design and lighting: John Bury
Costumes: Sheila Russell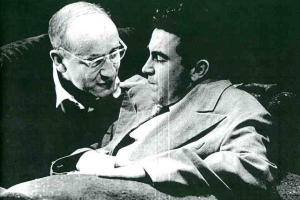 Selected other productions of Dutch Uncle
PUBLISHING INFORMATION
Dutch Uncle was published as a Faber Contemporary Classic in Simon Gray: Plays 1 on July 7th 2010. To order a copy at special offer 25% discount please contact Faber and use code GRAYPLAYS. Or check out the plays section of our bookshop.
Dutch Uncle is also available in the following editions:
The Definitive Simon Gray Volume I (Faber and Faber, 1992 ISBN 0-571-16223-1)
Dutch Uncle (Faber and Faber 1969)
LICENSING INFORMATION
For UK and Worldwide professional rights please contact Judy Daish Associates at rozzy@judydaish.com. For amateur rights please contact licensing@judydaish.com. For amateur rights in the USA and Canada, apply to Samuel French Inc at www.samuelfrench.com.