Harry is a literary agent. Louise is a writer. They are young and happily married. As the play opens, we find them choosing a country house, an idyllic place where she can write, where small children will be happy, and where they can both relax. Into their country garden walks the local vicar, Ronnie, who with some surprising revelations about faith, brings doubt into Harry and Louise's smug existence. And, as the play moves on, and everyone grows up or grows older, country life seems to bring less and less joy and peace and proves to be quite the opposite of the idyll they envisage.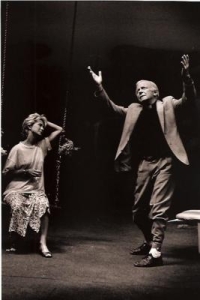 PRODUCTION HISTORY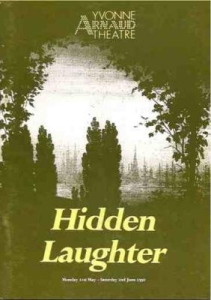 Hidden Laughter was first presented by Michael Codron on 8th May 1990 at the Theatre Royal, Brighton. The cast was as follows:
HARRY – Kevin McNally
LOUISE – Felicity Kendal
BEN – Richard Vernon
RONNIE – Peter Barkworth
DRAYCOTT – Sam Dastor
NATALIE – Caroline Harker
NIGEL – Samuel West
NAOMI – Jane Galloway
Director: Simon Gray
Designer: Robin Don
Lighting: Rick Fisher
The production moved to the Vaudeville Theatre, London, on 12th June, 1990.
REVIEWS
Felicity Kendall and Peter Barkworth in Hidden Laughter/Photo: John Haynes
"If God existed, or if Simon Gray could invent him, He would be an important character in Hidden Laughter. This is a sad divine comedy, superbly written, and its title is laden with emotion, both comforting and resentful. Gray nurses his characters and cares for them, but he never pampers them, or pities them, or presumes to use them as spokesmen.
"In this respect, he has become an English Chekhov – provided you can rid your image of Chekhov of that mood of misty melancholy with which his is still often surrounded. At the same time, gray generic xanax online dispenses some of the incandescent malice and moral savagery of Noel Coward at his acid best."
John Peter, Sunday Times, June 17th 1990
"I like it as much as anything Mr Gray has written for the stage… Under the guise of domestic drama, Mr Gray has written amediative, philosophical play about time mortality, madness, decay, egoism and the bruising modern attitude towards friendship… it makes most contemporary plays in the West End look decidedly thin gruel."
Michael Billington, The Guardian, June 14th 1990
[T]he final impression is of complicated truths rendered with an unsentimental warmth and something even stranger. The characters don't just misunderstand each other, suffer pain, and feel guilt: they persistently ask why. To call this Gray's first metaphysical work might be too much. But his title comes from lines in Eliot's Four Quartets celebrating the one comfort his play ruefully offers: the indestructible magic of unforgettable moments, for instance with children, in gardens. And that, from a bilious writer, is surely new.
Benedict Nightingale, The Times, June 14th 1990
PUBLISHING INFORMATION
Hidden Laughter was published as a Faber Contemporary Classic in Simon Gray: Plays 4 on July 15th 2010. To order a copy on special offer at 25% discount please contact Faber using code GRAYPLAYS. Or check out the plays section of our bookshop.
Hidden Laughter can also be found in the following editions:
The Definitive Simon Gray Volume IV (1993 ISBN 0-571-16659-8)
And as an individual play in:
Hidden Laughter (Samuel French UK ISBN 978 0 573 01784 1)
Hidden Laughter (Samuel French US)
Hidden Laughter (Faber and Faber 1990 0-571-144330)
LICENSING INFORMATION
For UK and Worldwide professional rights please contact Judy Daish Associates at rozzy@judydaish.com. For amateur rights please contact Samuel French at www.samuelfrench-london.co.uk.