Take one closet writer of romantic fiction, her beloved local vicar, her philandering husband and a girl on the loose – add in a devotion to literature, a fast car and a captivating length of chain – and you have Just the Three of Us, where love, lust and a smiling refusal to say no can have frightening and exhilarating consequences. Just the Three of Us stylishly mixes the comic and the macabre to achieve a thoroughly entertaining play that is both tense and surprisingly touching.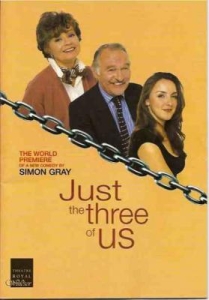 Just the Three of Us was first presented by the Peter Hall Company at the Theatre Royal, Windsor, on 7th October 1997, and subsequently at Brighton, generic xanax 2mg Guildford, Nottingham, Wolverhampton, Swansea and Newcastle. The cast was as follows:
ENID – Prunella Scales
RONNIE – Dinsdale Landen
TERRI – Carli Norris
Director: Peter Hall
Designer: Ti Green
Sound Designer: Matt McKenzie
Lighting Designer: Ben Ormerod
PUBLISHING INFORMATION
Just the Three of Us is now available as a Faber Contemporary Classic in Simon Gray: Plays 5. To order a copy on special offer at 25% discount please contact Faber and use code GRAYPLAYS.
Just the Three of Us is also published in the following edition:
Just the Three of Us (Nick Hern Books 1999 ISBN 1-85459-434-6)
LICENSING INFORMATION
For UK and Worldwide professional performance rights please contact Judy Daish Associates at rozzy@judydaish.com. For English-speaking amateur rights apply to Samuel French Ltd at www.samuelfrench-london.co.uk.