With much humour and an undercurrent of pathos, Quartermaine's Terms looks at the lives and relationships of seven teachers who gravitate between classes to the faculty common room of their small British school for foreigners. Quartermaine's Terms was named by the Royal National Theatre as one of the best 100 plays of the 20th century.
LONDON, 2013
Quartermaine's Terms played at the Wyndham's Theatre, London, from 23rd January 2013, after short runs at the theatre Royal, Brighton, and the Theatre Royal, Bath.
ST JOHN QUARTERMAINE – Rowan Atkinson
ANITA MANCHIP – Louise Ford
MARK SACKLING – Matthew Cottle
EDDIE LOOMIS – Malcolm Sinclair
DEREK MEADLE – Will Keen
HENRY WINDSCAPE – Conleth Hill
MELANIE GARTH – Felicity Montagu
Visit the Quartermaine's Terms website to book tickets and find out more.
PRODUCTION HISTORY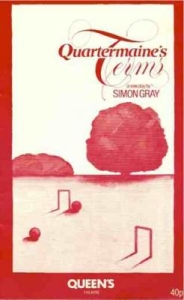 Quartermaine's Terms was first presented by Michael Codron on 30th July 1981 at the Queen's Theatre, London. The cast was as follows:
ST JOHN QUARTERMAINE – Edward Fox
ANITA MANCHIP – Jenny Quayle
MARK SACKLING – Peter Birch
EDDIE LOOMIS – Robin Bailey
DEREK MEADLE – Glyn Grain
HENRY WINDSCAPE – James Grout
MELANIE GARTH – Prunella Scales
Director: Harold Pinter
Designer: Eileen Diss
Lighting: Leonard Tucker
Read an interview with Simon Gray about Quartermaine's Terms and his career from America's Arena magazine, given at the time of the 1984 production of Quartermaine's Terms at the Arena Stage, Washington D.C.
Bill Hewison's cartoon of the original production for Punch, 12th August 1981
REVIEWS
"The most enjoyable and intriguing new play this year."
Mark Amory, The Spectator
"The brave little lives that Mr. Gray so compassionately illuminates could be lived by any of us, and that's why they arouse emotions that are anything but small."
Frank Rich, The New York Times
"With Quartermaine's Terms, Simon Gray has written the best play of his notable career, a delicate, moving and yet consistently funny piece, eloquently directed by Harold Pinter, which depicts the English penchant for quiet suffering with immense skill."
Peter Hepple, The Stage
Read more reviews
TV and RADIO PRODUCTIONS
A BBC TV production of Quartermaine's Terms starring Edward Fox and John Gielgud was broadcast in 1987. A copy of it can be viewed on the youtube channel embedded to the right of this page.
A radio play of Quartermaine's Terms was broadcast on BBC Radio 4 in 2006, starring Michael Palin as St.John Quartermaine.
2009 PRODUCTION
Quartermaine's Terms was produced at the Williamstown Theatre Festival from 12th-23rd August 2009. Tony-nominated director Maria Aitken directs this charming and heart-felt…READ MORE
PUBLISHING INFORMATION
Quartermaine's Terms is available in the collection Simon Gray: Plays 3 (ISBN 978-0571254880) single volume edition published by Faber and Faber. To order a copy on special offer at 25% discount visit the Faber website and use the code GRAYPLAYS. Or check out the plays section of our bookshop.
Quartermaine's Terms is also as a single volume edition published by Faber and Faber on 07/02/2013. To order a copy visit the Faber website.
Key Plays (Faber and Faber 2002 ISBN 0-571-21634-X)
The Definitive Simon Gray Volume III (Faber and Faber 1993 ISBN 0-571-16453-6)
Quartermaine's Terms(Eyre Methuen 1981)
Quartermaine's Terms (Samuel French UK ISBN 978-0 573-01261-7)
Quartermaine's Terms (Samuel French US)
LICENSING INFORMATION
For UK and Worldwide professional rights please contact Judy Daish Associates at rozzy@judydaish.com. For amateur rights please contact Samuel French at www.samuelfrench-london.co.uk.