In his younger days, Robert Simon was a first-rate stage-manager in provincial rep. Now he keeps house for his West End actress wife, while amusing himself with lots of little sexual adventures. In fact, a thoroughly happy man. Until one evening, through the clumsy intervention of a psychiatrist, his happiness and his marriage are destroyed. He plans a hideous revenge, both on his wife and on the psychiatrist…a revenge which allows him to discover all his old talents.
PRODUCTION HISTORY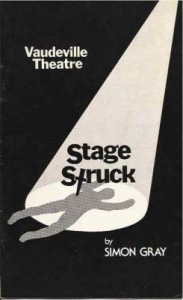 Stage Struck was first presented on 21st November 1979, at the Vaudeville Theatre by Michael Codron, with the following cast:
ROBERT – Alan Bates
HERMAN – Andrew Sharp
ANNE – Sheila Ballantine
WIDDECOMBE – Nigel Stock
Director: buy generic xanax Stephen Hollis
Designer: Carl Toms
Selected other productions of Stage Struck
Cartoon by Bill Hewison for Punch, 5th December, 1979: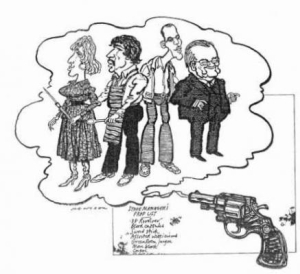 PUBLISHING INFORMATION
Stage Struck is now available as a Faber Contemporary Classic in Simon Gray: Plays 3. To order a copy on special offer at 25% discount please contact Faber and use the code GRAYPLAYS.
Stage Struck is published in the following editions:
The Definitive Simon Gray III (Faber 1993 ISBN 0-571-16453-6)
Stage Struck (Eyre Methuen 1979)
LICENSING INFORMATION
For UK and Worldwide professional rights please contact Judy Daish Associates at rozzy@judydaish.com. For English-speaking amateur rights apply to Samuel French Ltd at www.samuelfrench-london.co.uk. For amateur and professional rights in the USA and Canada, apply to Samuel French Inc at www.samuelfrench.com.