England in the 1950s. Celia, desperate for distraction, fills her time with tennis and gin; Charles, a pathologist, is buried in his work among the living and the dead; and their gifted son, Holly, is having his first lessons on the piano and in life. The Late Middle Classes is a darkly funny study of the conflict between emotional needs and family restraints.
The Late Middle Classes was the winner of the award for Best New Play at the 1999 Barclays Theatre Awards.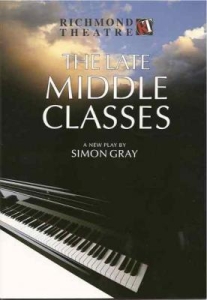 The Late Middle Classes was first presented by the Palace Theatre, Watford on 19th March 1999, and produced on tour by the Ambassadors Theatre Group/Turnstile Group Limited. The press night was on 23rd March. The production then played at Brighton, Plymouth, Bath, Woking and Richmond. The cast was as follows:
BROWNLOW – Nicholas Woodeson
HOLLY in his forties – James Fleet
HOLLY aged twelve – Sam Bedi
CELIA – Harriet Walter
CHARLES – James Fleet
ELLIE – Angela Pleasence
Director: Harold Pinter
Designer: Eileen Diss
Lighting: Mick Hughes
Sound Designer: Dominic Muldowney
REVIEWS
'Simon Gray's quietly riveting new play, The Late Middle Classes, is about adapting to life after the Second World War. Harold Pinter's atmospheric, absorbing production elicits superb performances from Gray's cast of shell-shocked characters.' Georgina Brown, The Mail on Sunday
'Simon Gray's deeply satisfying, funny-sad and perceptive new play is set in the 1950s world of tennis and gin and more gin, and dealing with one's inferiors, being a boon to one's husband, and trying to forget the less constricted world the war had opened up to women. Harold Pinter's pitch-perfect production, beautifully acted by the likes of Harriet Walter and Nicholas get xanax online Woodeson, emphasises not only the Rattiganesque stage-craft but a Dickensian range of sympathies.' Paul Taylor, The Independent
DONMAR WAREHOUSE PRODUCTION, MAY 2010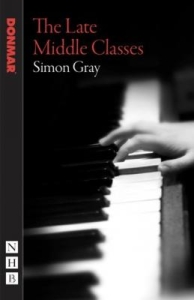 The Late Middle Classes received its London premiere at the prestigious Donmar Warehouse on 27th May 2010.
BROWNLOW – Robert Glenister
HOLLY in his forties – Peter Sullivan
HOLLY aged twelve – Laurence Belcher, Harvey Allpress, Felix Zadek-Ewing
CELIA – Helen McCrory
CHARLES – Peter Sullivan
ELLIE – Eleanor Bron
Director: David Leveaux
Designer: Mark Britton
Lighting: Hugh Vanstone
Composer: Corin Buckeridge
Sound Designer: Simon Baker
Production photos from the Donmar Warehouse production, by Johan Persson:
2000
The Late Middle Classes was presented at the Williamstown Theatre Festival in 2000 with the following cast:
BROWNLOW – Tom Bloom
HOLLY, in his forties – Daniel Gerroll
HOLLY, aged twelve – Benjamin Gerroll
CELIA -Lisa Harrow
CHARLES – Daniel Gerroll
ELLIE – Lucille Patton
Directed by Roger Rees
Read an account of this production in an exclusive interview with Daniel Gerroll
ENTER A FOX
Simon Gray drew heavily on his experiences of attempting to secure a West End venue for the original production of The Late Middle Classes in his richly comic 2001 diary Enter A Fox.
PUBLISHING INFORMATION
The Late Middle Classes is now available as a Faber Contemporary Classic in Simon Gray: Plays 5. To order a copy on special offer at 25% discount please contact Faber and use the code GRAYPLAYS.
The Late Middle Classes has also been published in a new edition by Nick Hern Books:
The Late Middle Classes (Nick Hern Books 2010, ISBN 978-1-84842-110-3)
LICENSING INFORMATION
For UK and Worldwide performance rights please contact Judy Daish Associates at judy@judydaish.com. For English-speaking amateur rights apply to Nick Hern Books at www.nickhernbooks.co.uk.